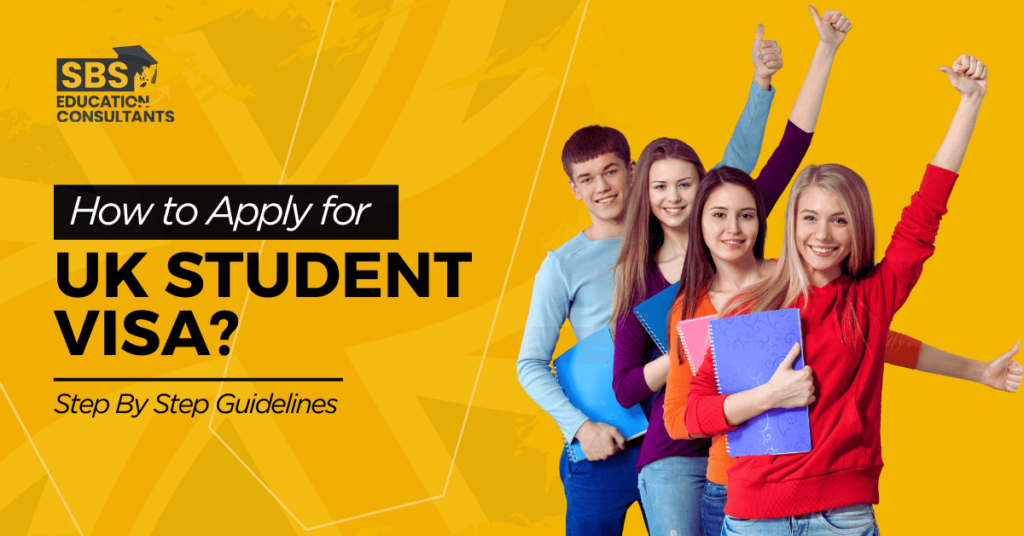 Studying in the United Kingdom is a dream for many international students. The UK boasts world-class universities, a rich cultural heritage, and a diverse and welcoming environment for students from all over the globe. If you've been accepted into a UK educational institution and are ready to embark on your academic journey, one crucial step you'll need to take is applying for a UK student visa.
How to Apply for a UK Student Visa – Step By Step Guide
In this comprehensive guide, we'll walk you through the process, step by step, ensuring you have all the information you need to successfully obtain your UK student visa. So let's check out;
1- Determine Your Visa Type
Before you start the application process, it's important to understand the type of student visa you need. The most common types of UK student visas are:
Tier 4 (General) Student Visa
This visa is for students aged 16 and above who want to study at a UK university or college.
Ideal for students enrolling in short courses, English language programs, or research programs lasting up to six months.
Tier 4 (Child) Student Visa
Designed for children aged 4 to 17 who wish to study at independent schools in the UK.
Tier 4 (Doctorate Extension Scheme) Visa
This visa is for Ph.D. students who want to remain in the UK for an additional 12 months after completing their studies.
Identifying the correct visa type is crucial because the application requirements and procedures may vary.
2- Prepare Your Documents
Gathering the necessary documents is a critical step in the application process. Make sure you have the following documents ready:
Ensure your passport is valid for at least six months beyond your intended date of arrival in the UK.
CAS (Confirmation of Acceptance for Studies)
Your educational institution will provide you with a CAS, which is a unique reference number essential for your application.
You must demonstrate that you can cover your tuition fees and living expenses while in the UK. This typically requires bank statements, sponsorship letters, or scholarship confirmations.
Include your academic certificates, transcripts, and English language proficiency test results (e.g., IELTS, TOEFL).
Tuberculosis Test Results
If required, provide evidence of a negative tuberculosis test.
Passport-Sized Photographs
Ensure they meet the UKVI's photo requirements.
3- Complete the Online Application Form
Visit the official UK government website and complete the online visa application form. Be sure to fill it out accurately and honestly, as any discrepancies can lead to delays or rejection.
4- Pay the Visa Fee
Pay the visa application fee, which varies depending on your visa type and your country of residence. You can usually pay online through the visa application center's website.
5- Biometrics Appointment
You'll need to visit a visa application center in your home country to provide biometrics (fingerprints and a photograph). This is a crucial step to confirm your identity.
6- Attend an Interview (if required)
In some cases, you may be asked to attend an interview at your local UK embassy or consulate. This is typically required for Tier 4 (General) Student Visas.
7- Visa Processing Time
The processing time for your UK student visa application may vary depending on your home country and the time of year. Applying well in advance is essential to ensure you receive your visa before your course starts.
8- Visa Decision
Once your application is processed, you will receive a decision letter. If your visa is approved, it will include details about your visa validity and any additional conditions.
9- Travel to the UK
With your visa in hand, you can make travel arrangements to the UK. Ensure you carry all the necessary documents in your hand luggage, as you may be required to show them upon arrival.
10- Register with the Police (if required)
Certain nationalities must register with the police upon arrival in the UK. Check if this requirement applies to you and complete the registration if necessary.
11- Maintain Visa Compliance
While studying in the UK, it's crucial to adhere to the conditions of your visa. This includes attending classes regularly, maintaining your finances, and complying with visa renewal requirements if applicable.
12- Extend or Switch Your Visa (if needed)
If you plan to extend your stay in the UK or switch to a different visa category, make sure to follow the respective application process before your current visa expires.
Conclusion
Obtaining a UK student visa is vital to achieving your academic goals in the United Kingdom. By carefully following these step-by-step guidelines and ensuring you have all the necessary documents and information, you can navigate the application process smoothly. Remember that timely and accurate preparation is key to a successful visa application, allowing you to fully focus on your studies and enjoy your educational experience in the UK. Good luck with your studies and your journey to the UK!